Production buildings are buildings which players can place in nation ports to produce certain resources. Production buildings are the start of what will be a player based economy. Currently each player receives 5 slots for buildings.
How production Buildings Work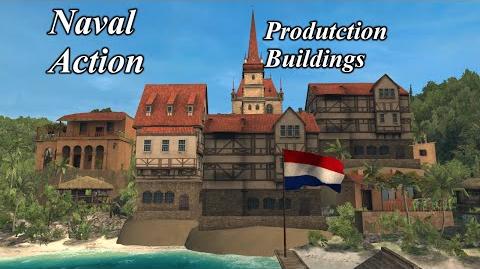 Production buildings produce resources through the day at a certain rate. Produced resources are kept in the buildings storage until you decide to extract them. To extract resources from a Production Building, you need to use Labour Hours and gold. The Storage size, rate of resource production and Labour Hour cost to extract all depend on the Production Building Level. Higher level building produce more resources, have a larger storage and decreased labour hour cost compared to a lower level building.
Extracting resources from a Production Building happens through the Crafting menu, from a tab called "Resources".
As the game has not yet fully transferred to a player-based economy, maximum profts cannot yet be made by selling the resources from your production buildings. This does not, however, mean that the production buildings have no use. Especially on the PvP 1 server, the price for resources is exceptionally high. This makes it profitable for a player to buy production buildings to harvest materials to craft with and because of the high prices currently in the most populated server, relatively large amounts of money can be made from selling raw resources.
An even more profitable way of making money using your production buildings, is by producing certain raw materials, which you then make crafting materials from, such as crafting notes or making ingots from ore. These items can be sold for ridiculous amounts of money, as the high-level and often clan-based crafters, who are commonly rich as well, will not hesitate to spend extra amount of money to save labour hours. This opens doors for the newer players, who can make large amount of start-up money, simply by investing in production buildings.
Different Kinds of Production Buildings
Shipyard
A shipyard is needed to craft ships, higher level ships means higher level shipyard needed.
| Level | Building Price |
| --- | --- |
| Level 1 | 50 000 |
| Level 2 | 230 000 |
| Level 3 | 880 000 |
Gold Mine
| Level | Production | Production cost(per unit) | Labour Hours(per 100 units) | Storage | Building Price |
| --- | --- | --- | --- | --- | --- |
| Level 1 | 50 | 76 | 100 | 150 | 10 000 |
| Level 2 | 75 | 76 | 90 | 225 | 50 000 |
| Level 3 | 100 | 76 | 80 | 300 | 150 000 |
Coal Mine
| Level | Production | Production cost(per unit) | Labour Hours(per 100 units) | Storage | Building Price |
| --- | --- | --- | --- | --- | --- |
| Level 1 | 150 | 11 | 33.3 | 450 | 10 000 |
| Level 2 | 225 | 11 | 30 | 675 | 50 000 |
| Level 3 | 300 | 11 | 26.6 | 900 | 150 000 |
Copper Mine
| Level | Production | Production cost(per unit) | Labour Hours(per 100 units) | Storage | Building Price |
| --- | --- | --- | --- | --- | --- |
| Level 1 | 25 | 21 | 50 | 75 | 10 000 |
| Level 2 | 37.5 | 21 | 45 | 113 | 50 000 |
| Level 3 | 50 | 21 | 40 | 150 | 150 000 |
Silver Mine
| Level | Production | Production cost(per unit) | Labour Hours(per 100 units) | Storage | Building Price |
| --- | --- | --- | --- | --- | --- |
| Level 1 | 50 | 37 | 100 | 100 | 10 000 |
| Level 2 | 75 | 37 | 90 | 150 | 50 000 |
| Level 3 | 100 | 37 | 80 | 200 | 150 000 |
Iron Mine
| Level | Production | Production cost(per unit) | Labour Hours(per 100 units) | Storage | Building Price |
| --- | --- | --- | --- | --- | --- |
| Level 1 | 150 | 74 | 33.3 | 450 | 10 000 |
| Level 2 | 225 | 74 | 30 | 675 | 50 000 |
| Level 3 | 300 | 74 | 26.6 | 900 | 150 000 |
Stone Block Mine
| Level | Production | Production cost(per unit) | Labour Hours(per 100 units) | Storage | Building Price |
| --- | --- | --- | --- | --- | --- |
| Level 1 | 20 | 5 | 50 | 60 | 10 000 |
| Level 2 | 30 | 5 | 45 | 90 | 50 000 |
| Level 3 | 40 | 5 | 40 | 120 | 150 000 |
Hemp Plantation
| Level | Production | Production cost(per unit) | Labour Hours(per 100 units) | Storage | Building Price |
| --- | --- | --- | --- | --- | --- |
| Level 1 | 100 | 50 | 50 | 300 | 10 000 |
| Level 2 | 150 | 50 | 45 | 450 | 50 000 |
| Level 3 | 200 | 50 | 40 | 600 | 150 000 |
Pine Wood Forest
| Level | Production | Production cost(per unit) | Labour Hours(per 100 units) | Storage | Building Price |
| --- | --- | --- | --- | --- | --- |
| Level 1 | 15 | 15 | 50 | 45 | 10 000 |
| Level 2 | 22.5 | 15 | 45 | 67.5 | 50 000 |
| Level 3 | 30 | 15 | 40 | 90 | 150 000 |
Red Wood Forest
| Level | Production | Production cost(per unit) | Labour Hours(per 100 units) | Storage | Building Price |
| --- | --- | --- | --- | --- | --- |
| Level 1 | 10 | 25 | 100 | 30 | 10 000 |
| Level 2 | 15 | 25 | 90 | 45 | 50 000 |
| Level 3 | 20 | 25 | 80 | 60 | 150 000 |
Fir Wood Forest
| Level | Production | Production cost(per unit) | Labour Hours(per 100 units) | Storage | Building Price |
| --- | --- | --- | --- | --- | --- |
| Level 1 | 100 | 15 | 50 | 300 | 10 000 |
| Level 2 | 150 | 15 | 45 | 450 | 50 000 |
| Level 3 | 200 | 15 | 40 | 600 | 150 000 |
Teak Wood Forest
| Level | Production | Production cost(per unit) | Labour Hours(per 100 units) | Storage | Building Price |
| --- | --- | --- | --- | --- | --- |
| Level 1 | 50 | 22 | 50 | 150 | 10 000 |
| Level 2 | 75 | 22 | 45 | 225 | 50 000 |
| Level 3 | 100 | 22 | 40 | 300 | 150 000 |
Live Oak Wood Forest
| Level | Production | Production cost(per unit) | Labour Hours(per 100 units) | Storage | Building Price |
| --- | --- | --- | --- | --- | --- |
| Level 1 | 100 | 50 | 50 | 75 | 10 000 |
| Level 2 | 150 | 50 | 45 | 112 | 50 000 |
| Level 3 | 200 | 50 | 40 | 150 | 150 000 |
Oak Wood Forest
| Level | Production | Production cost(per unit) | Labour Hours(per 100 units) | Storage | Building Price |
| --- | --- | --- | --- | --- | --- |
| Level 1 | 100 | 25 | 50 | 300 | 10 000 |
| Level 2 | 150 | 25 | 45 | 450 | 50 000 |
| Level 3 | 200 | 25 | 40 | 600 | 150 000 |
Lignum Vitae Forest
| Level | Production | Production cost(per unit) | Labour Hours(per 100 units) | Storage | Building Price |
| --- | --- | --- | --- | --- | --- |
| Level 1 | 10 | 125 | 100 | 30 | 10 000 |
| Level 2 | 15 | 125 | 90 | 45 | 50 000 |
| Level 3 | 20 | 125 | 80 | 60 | 150 000 |
Compass Wood Forest
| Level | Production | Production cost(per unit) | Labour Hours(per 100 units) | Storage | Building Price |
| --- | --- | --- | --- | --- | --- |
| Level 1 | 50 | 500 | 100 | 150 | 10 000 |
| Level 2 | 75 | 500 | 90 | 225 | 50 000 |
| Level 3 | 100 | 500 | 80 | 300 | 150 000 |